Nature
There are many studies that conclude spending time in Nature is proven to reduce stress, improve cognitive skill, improve mood, and support positive mental health and emotional well-being.
Gregory Bratman, PhD, an assistant professor at the University of Washington, and colleagues shared evidence that contact with nature is associated with increases in happiness, subjective well-being, positive affect, positive social interactions and a sense of meaning and purpose in life, as well as decreases in mental distress (Science Advances, Vol. 5, No. 7, 2019).
"The current growing body of research combined with an intuitive understanding of the benefits of nature, and the explosion of the use of smartphones and other technology, has led to a tipping point at which health experts, researchers, and government officials are now proposing widespread changes aimed at bringing Nature into people's everyday lives." (Yale Environment 360).
But how do we use our time in Nature? What if we had a clear intent of spending our time in Nature with mental wellness in mind?  And better yet, what if we shared that time with others for this intent? The impact can be overwhelmingly positive!
Maybe fishing could be that activity for you.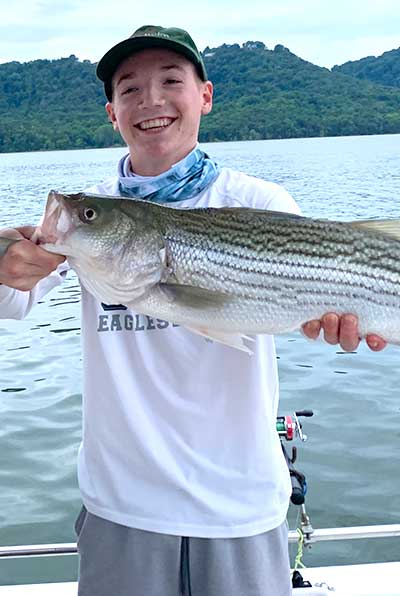 Please join us for the first annual Fishing for Mental Wellness Tournament on the beautiful Shenandoah River.
Our goal is to bring awareness to mental health issues, support mental wellness, and raise donations (from tournament entry fees) to support the Nick's Way mission.
This will be a fun tournament and everyone is welcome…whether you have never fished or you are an expert. Everyone will win. There will be guides and equipment for those who need it.
EVENT DETAILS:
1.      Saturday July 23rd (with a Saturday July 30th rain/weather date)
2.      $25 entry fee for each team, deductible as a charitable contribution
3.      Check in at 7am at Watermelon Park, which sits on the Shenandoah River in Berryville, VA.  You will leave your vehicles here. The address is 3322 Lockes Mill Rd., Berryville, VA 22611.
4.      Start time is 8am.
5.      End fishing at 2pm.  Take-out point is Shenandoah University's Cools Springs Campus, which sits on the river as well and is located in Loudoun County (just north of the Rt, 7 Bridge). The address is 1400 Parker Lane, Bluemont, VA 20135.
6.      It is nature, so you know the drill on restrooms while on the river.  Restrooms will be available at the launch and take out locations.
7.      Cookout from 2:30pm to 5pm
a.      Food and drinks provided for all
b.      A brief discussion of Nick's Way, with special guests
c.      Prizes awarded….1st, 2nd, 3rd.  T-shirts and takeaways for all.
d.      Our family will donate $5 to Nick's Way/Community for every fish caught.
8.      Depart at 5pm to 6pm….A bus service will transport you back to your vehicle at Watermelon Park.
RULES:
1.      2 people to each team (2 people per canoe) and each team should include a teen, student or young adult (25 or under).
2.      Must bring your own canoe or kayak, and fishing gear….we will work to supply canoes and/or fishing equipment for those who need them. You can let us know on the Registration form if you need a canoe or equipment.
3.      Must sign a waiver, all participants must have a life vest, and NO alcohol is permitted.
4.      1 point is received for each fish caught (you must release the fish to count as a catch).  The honor system will apply, pictures are good proof.  The most points (fish) wins.  Any type or size fish counts as 1 point.
5.      All fish should be safely released!
6.      There will be "guides" on the river during the tournament to assist in any manner.
This is a fun event and the first annual event, so please bring your smiles and patience.
Nick's Way – Fishing For Mental Wellness Tournament – July 23, 2022
Please Register Below.